A driving force behind our work is creating climate resilient communities. In order to do this, we protect land and steward it in perpetuity. This encompasses annual monitoring of our properties, including properties on which we hold conservation easements, as well as ongoing, active land management. Annual monitoring on our conservation easements helps us maintain quality relationships with our landowners and neighbors, building relationships with new landowners, ensuring easement violations are resolved, and responding to landowners' questions and requests to exercise their rights.

Stewardship on our and our partners' lands includes land and public access management, such as building trails, removing invasive plant species, planting trees, and cleaning up trash.

Nearly 75% of our protected land is open to the public and equipped with facilities for passive recreation and nature study. These lands include six parks, over 55 miles of trails, over 25 linear miles of river and stream protection, and 5,400 acres of publicly accessible natural spaces.
Our stewardship staff works alongside dedicated volunteers year-round support these spaces. We work to protect Association owned conservation lands, as well as those owned and managed by our conservation partners, such as Eno River State Park, Durham Parks and Recreation, and the NC Plant Conservation Program.
---
We need volunteers to achieve our stewardship and conservation goals!
---
As a volunteer, you will:
Protect the Eno River, the habitat surrounding it, and wildlife,
Improve access to natural spaces for your community, and
Strengthen your connection to the great outdoors!
Ways to volunteer:
Get outside with us and roll up your sleeves to help protect the mighty Eno. Common activities include invasive species removal, litter clean-up, and trail construction and maintenance.
Join our email list to stay up to date with upcoming opportunities to get involved in Eno River stewardship.
The Eno River Association, Eno River State Park, and West Point on the Eno City Park have partnered to invite trail enthusiasts to assist park staff in trail maintenance. As a trail steward, you will adopt a City or State Park trail section to visit monthly, monitor for any issues, and perform routine trail maintenance. You would first be required to attend a training session, which is typically held in March. Join our email list for information on our next session.
We are looking for volunteers to join a Site Stewards program, modeled after the Trail Stewards program. You would first be required to attend a training session before being assigned to an Eno River Association property to help us monitor and enhance the habitat throughout the year. Training is usually hosted in the fall. Join our email list for information on our next session.
We welcome local businesses to donate their time to help us during the work week. This is a great opportunity for team-building and achieving your business' philanthropy objectives, while helping us complete stewardship projects. We thank Burt's Bees and Biomerieux for volunteering their staff time! Email corporateworkday@enoriver.org to get started.
If you have any questions or want to learn more, please contact Kim Livingston at (919) 620-9099 ext. 206, or email stewardship@enoriver.org.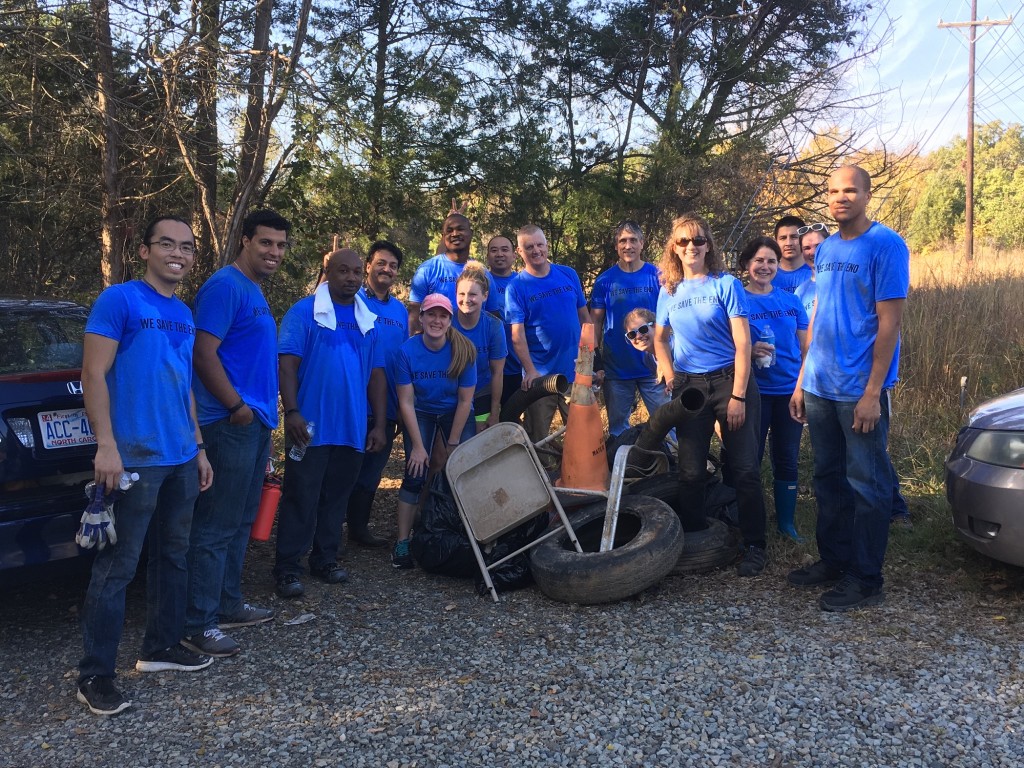 Help at Home:
Many volunteer hours are spent removing invasive species of plants. Once we have them under control in our protected areas, there is still a possibility of seeds making their way back in from neighboring properties. You can help us by tackling invasive species in your own backyard, by removing them and replacing them with native plants. To learn more download a PDF about commonly found invasive plants, visit the NC Invasive Plant Council, or the New Hope Audubon website.